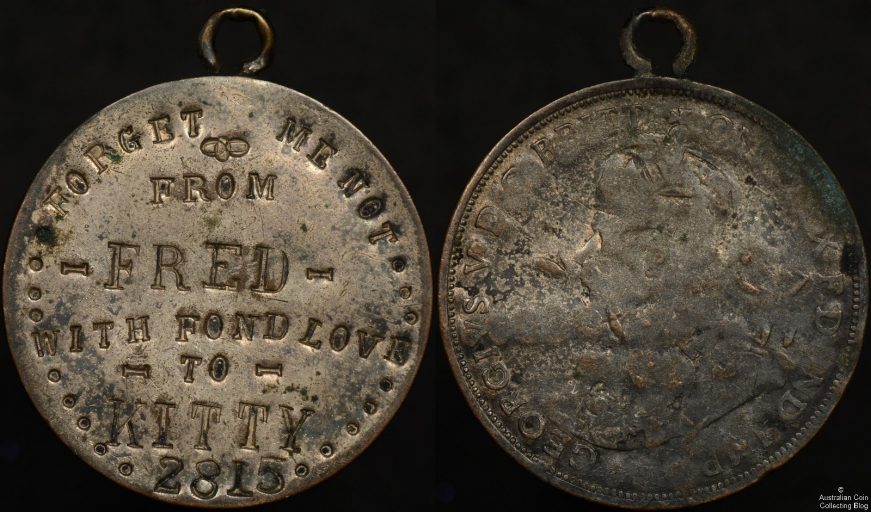 At the meeting of the NSSA held on 15 June 2017 a member presented the above item.  The description of the item is below.
Tonight I am showing a 'forget-me-not' penny dating to World War 1.  It is made from a George V penny with the reverse skimmed and punched crudely with:
The penny is silvered and has an attached loop.  Frederick George Gifford, Service Number 2815 was born in Exeter, South Australia in 1889 and enlisted in 1916.  He listed his occupation as a Mechanical Engineer.  His initial service was in France as a motorcyclist with the Australian Mechanical Transport Service.  In early 1918 he attended a course as an artificer at the Tanks Corps Depot and in May shipped back to Australia.  In August he was discharged from the AIF and immediately re-enlisted for service in Australia only.  Upon re-enlistment he was taken on as part of the Australian Armoured Service Corps.  He spent the rest of the war as part of the crew of Grit, a British MK IV tank numbered 4643.  The tank toured Australia for several months in 1918 for promotional purposes including spending several days in Adelaide after the tank was shipped here with some difficulty by rail from Melbourne.
Catherine (Kitty) Pantzer wrote a letter to the commander of Army Records in Melbourne in 1918 asking about the location of Fred.  Presumably this is the same Kitty mentioned on the penny.  The relationship between Kitty and Fred is unclear, but Fred married Ellen Maloney in Mount Gambier in 1922 so if it was a romantic one it did not last much past the end of the war.    Fred lived out most of his life in Mount Gambier where he was a publican and a strong supporter of local sporting teams.  He moved to Melbourne in the 1950's and died in 1961.  Of Kitty Pantzer we know little and further research is required."