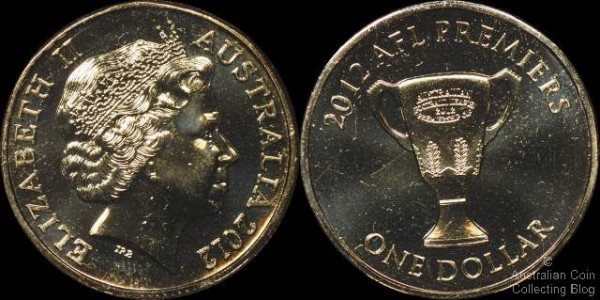 The following was presented by a member of the NSSA during the meeting held on 17 December 2015.
In 2012 there were two 1 dollar coins issued by the Royal Australian mint to commemorate the AFL. Both coins featured the AFL premiership cup trophy and the generic coin read "2012 AFL PREMIERS ONE DOLLAR" on the reverse and the other was issued after the Sydney Swans won the premiership title and read "2012 AFL PREMIERS SYDNEY SWANS".
Little known to collectors the first generic coin (shown here) was issued in corporate gift packaging and was given away as a gift at official AFL functions. Collectors weren't really aware of this issue as it was not something that you purchased and it wasn't given out through collector channels. I thought tonight I would show you this coin and its packaging that appears for the first time in the 22nd edition (2015) McDonald's catalogue.
This is the same coin that appears in the PNC issue so don't fret if you haven't heard of it before. It's just a different type of packaging, what collectors affectionately call 'packyboxitis' when you collect a coin merely for the packaging it's held in.