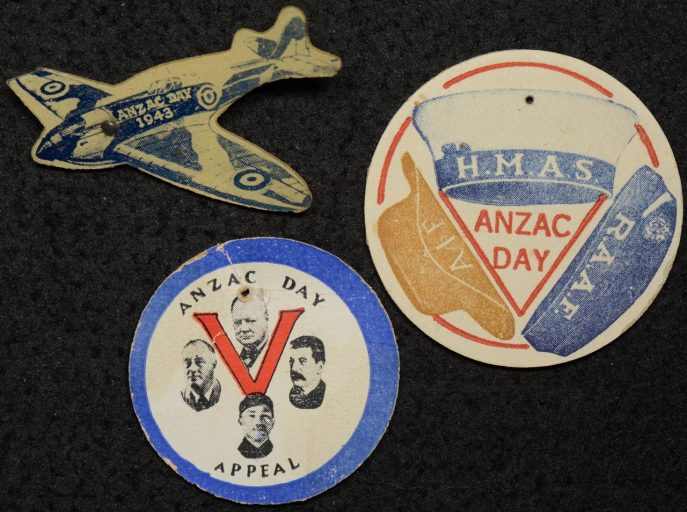 At the meeting of the NSSA held on 20 July 2017 a member presented the three ANZAC Day fundraising badges you can see above.  A description of the badges can be seen below.
The NSSA member showed three ANZAC day fund raising badges dating from World War 2. The first was a 38mm circular cardboard badge with pin hole, colour printed and depicting hats from the Royal Australian Navy, the Australian Army, and the Royal Australian Air Force around the edge with the words ANZAC DAY in the centre. The second badge was a round 31mm cardboard badge with pin hole, again colour printed. This badge shows a large red V at the centre on a white background, with portraits of Roosevelt, Churchill, Stalin, and Chiang Kai-Shek around, ANZAC DAY APPEAL above and below and a blue border. The final badge measured 36 x 39mm, was cardboard with a celluloid coating and depicted an Australian Hurricane fighter plane with ANZAC DAY 1943 printed on the fuselage. This badge still had the original pin attached.
These badges were issued by the Returned Sailors, Soldiers, and Airmens Imperial League of Australia (RSSAILA). The RSSAILA became the RSL in 1965.